HS Customs was established in 1997 By Cam Miller.
HSC is located in North Logan Utah. HSC started business in the ATV, motorcycle and UTV market. The main focus was a sand drag, and sand dune ATV's and UTV's. Also, ground-up custom motorcycles. Cam's airbrush and custom painting skills were in high demand so the business focused on that path until 2011. Cam has always had a passion for custom cars and trucks and in the past had built a handful of cars and trucks. The decision was made to build a purpose-built facility and go headfirst into the automotive customization/restoration world. HSC does full paint and body, fabrication, electrical and plumbing, upholstery, chassis dynoing, design, and engineering. HSC is a one-stop-shop. Having the ability to go from concept to reality under one roof we feel is very important to the success of your project.
Founder | Owner | Custom Airbrush Artist
Cam was born and raised in Logan, Utah. He has been running HS Customs since its inception in 1997. From its humble beginnings, in a garage, giving Banshee ATV's wild, air-brushed custom paint jobs, to being a world-renowned custom car builder after being crowned the 2016 SEMA "Battle of the Builders" champion, Cam's vision for custom vehicles has earned HS Customs multiple prestigious "Good Guys" car/truck of the year awards and countless "Best of Show" awards through varying show circuits. His background and skills have been honed through years of trial and error, success and sometimes failure.  His favorite part of his job has changed over the years. Mostly, he enjoys creating something he is passionate about and putting a smile on someone's face. Now that he can spend more time working alongside his crew, he enjoys seeing them create works of art that embody his vision for each build produced by HS Customs. His hobbies consist of: jet skiing, going to the lake, drawing, cooking, and spending time with his family.
Rob arrived at HS Customs after spending 7 years in the Houston, Texas area assisting with the management of a large, yacht maintenance company. Rob's passion and commitment to the custom car industry has helped him play a key role in creating new business opportunities for HS Customs. Using his past business managerial experience and network of people and resources, the transition from custom yachts to custom cars has been nearly seamless. Rob oversees the day to day operations that help make HS Customs successful. From generating estimates and bids, customer communication, parts procurement, technician training and development, project oversight and a myriad of other responsibilities, Rob is heavily involved and invested in HS Customs and we appreciate his time and dedication. When Rob isn't at work, he spends his time with his family, working on his own project truck, or a variety of other activities in the great outdoors, Northern Utah is famous for.
Taylor is the first person you will likely speak to coming through the front door or calling us on the phone, here at HS Customs. Her upbeat attitude and professionalism ensure our clients, vendors, and prospective customers, that they are in the right place for their custom needs. Taylor assists with all the essential duties of keeping any business functional. From handling incoming phone calls to balancing the books, Taylor does it all! Taylor continues to prove that she is an asset to the company by looking for ways to improve our image across various social media platforms and is actively involved with projects that help reach new prospective clients. Her hobbies consist of: running, spending time with her family, and enjoying the great outdoors.
Lead Paint and Body Technician
WyoTech Graduate
Associates degree in
Applied Science in Automotive Refinishing
Hayden has 5 years of experience in the industry and specializes in paint and body. His years of experience allow him to play a critical role in the body department. Hayden went to school knowing that he wanted to build custom cars. After graduation, his WyoTech recruiter connected him with Cam and HS Customs. After an interview, he came up and proved what he was capable of and was given the opportunity to start his career at HS Customs.  Hayden continues to prove to be an asset to the company with his solid work ethic and passion for the projects in our shop. When Hayden isn't working, he spends his time wrenching on his own classic cars.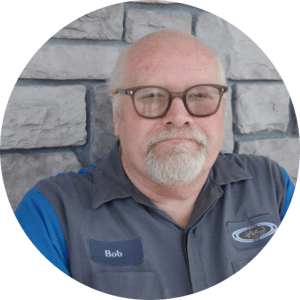 Fabrication Technician
Utah Technical College / Self taught
Bob brings 40 years of valuable experience to HS Customs. Bob specializes in fabrication, mechanical, electrical and upholstery. Bob ran his own custom hot rod shop for 25 years before landing at HS Customs. Old school hot rod builders are getting hard to come by making Bob an extremely valuable asset to our company. From training and mentoring the next generation of custom car builders to spending time tinkering on his own fleet of custom cars and trucks – Bob does it all.
Body Technician
Bachelor's degree in Liberal Arts
Certifications in Chief EZ-Liner, Velocity measuring system and GM SMC panel replacement
Steve brings 33 years of skill and experience to HS Customs. Steve specializes in body work and panel alignment. His years of experience and work ethic allow him to be flexible in the body department as he is well-versed in just about all aspects of body and sheet metal work. Steve spent almost 25 years in California before landing at HS Customs and we think he couldn't have made a better choice! When Steve isn't working, he enjoys working on his property and tending to his hives of bees.
Paint and Body Technician
WyoTech Graduate
Associates degree in
Management
Certifications in Street Rod & Custom fabrication and Collision Refinishing Technology
Jason brings 5 years of industry experience to HS Customs and specializes in paint and body but is also an adept welder, fabricator and mechanic. Jason continues to hone his skills in the paint and body department but consistently proves his value to the company by being flexible in other aspects of the shop. Jason continues to prove his value by being passionate about the industry, even working on his own '32 Ford Coupe in his spare time. Jason is on the right path to becoming an adept hot rod builder and we look forward to helping him achieve his goals and grow with the company.
Mechanic
Associates degree in Applied Science from Weber State University
Certified in Honda P.A.C.T
Andy brings 8 years of valuable mechanical experience to HS Customs. Andy specializes in mechanical work as well as metal fabrication. His years of experience accompanied by a great attitude allow him to play a crucial role in these departments. Andy comes naturally to the automotive industry with his father being an Auto Collision Instructor at a local Technical college. Andy discovered his mechanical aptitude early on in life and gained valuable knowledge and skills working in a variety of dealerships to speed shops. After a career change that took him all over the world installing and maintaining high end industrial equipment, family life brought him back home and back to his roots, working on some of the coolest cars in the industry, here at HS Customs. Andy continues to impress us by actively taking on new challenges and coming up with viable solutions for custom problems that frequently occur in the custom car industry. Andy enjoys spending time with his family, working on personal projects at home and everything that the great outdoors has to offer.